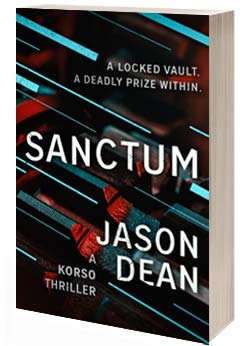 Sanctum
A locked vault, inside an impenetrable fortress. A deadly prize within.
Upon the successful completion of a risky undercover assignment in the States, the covert salvage operative known only as Korso is contacted by his only real ally, the mysterious hacker M.D. Dog.
Tracked down by Interpol's cybercrimes unit, Dog faces life imprisonment unless they betray a client – the merciless South American crime lord Miguel Quezada – whom Interpol are convinced ordered the Guatemalan Vice President's assassination a year before.
Knowing Korso is the only one who can help, Dog wants him to infiltrate Quezada's heavily guarded compound to recover the murder weapon – a Mayan jade dagger – hidden in a safe room somewhere on his property.
Get the dagger to Interpol and Dog goes free. Fail? And it will be the end of them both…
Sanctum, the second in the Korso series published by Canelo, is on sale now in paperback & ebook.